1. Wooden Pallet DIY Computer Desk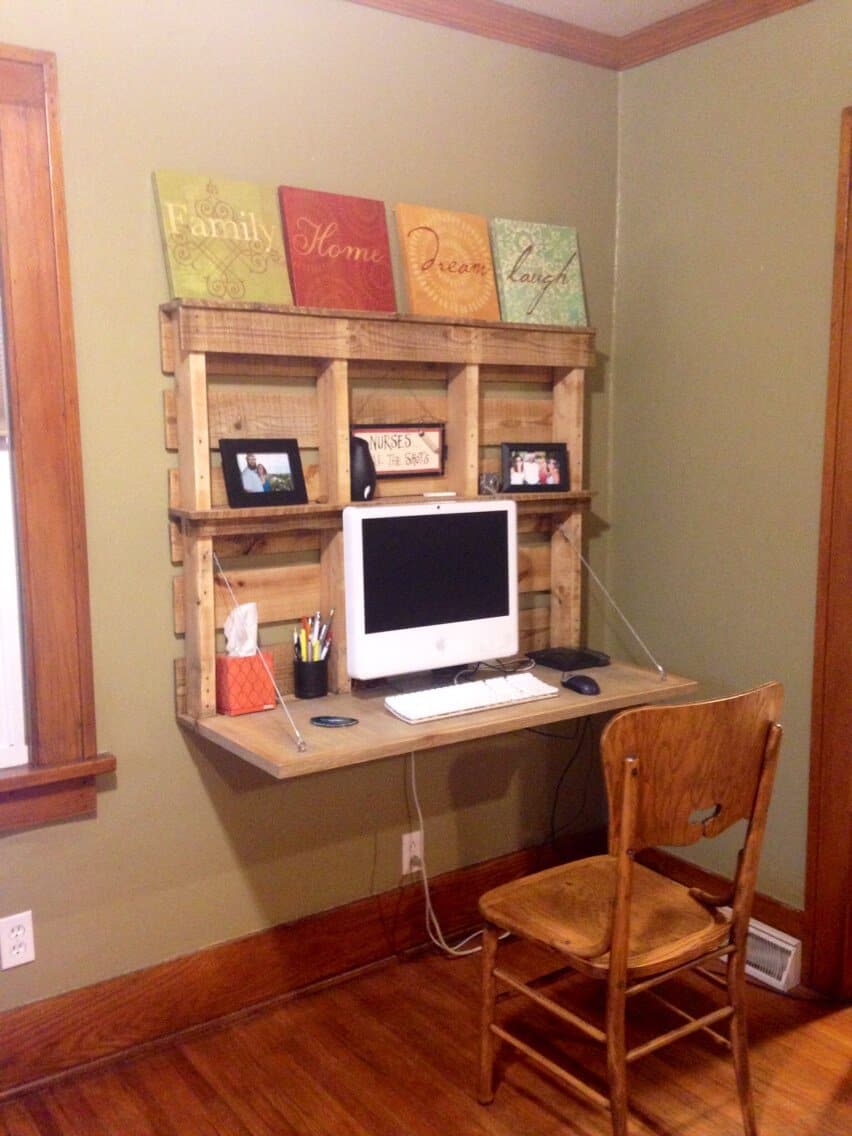 Wooden pallet always be the number one material when it comes to DIY project due to its flexibility.
Besides, you can easily find wooden pallet over the stores in your area. You can make rack, book shelf, coffee table, bed frames, and computer desk out of it.
To make this computer desk, you'll need a single layer of wooden pallet for the shelf, one wooden board for the surface, and a pair of string for the holder.
The usage of the wooden pallet as the shelf is also useful for the attachment to the wall, making this table into a floating desk.
2. DIY Standing Computer Desk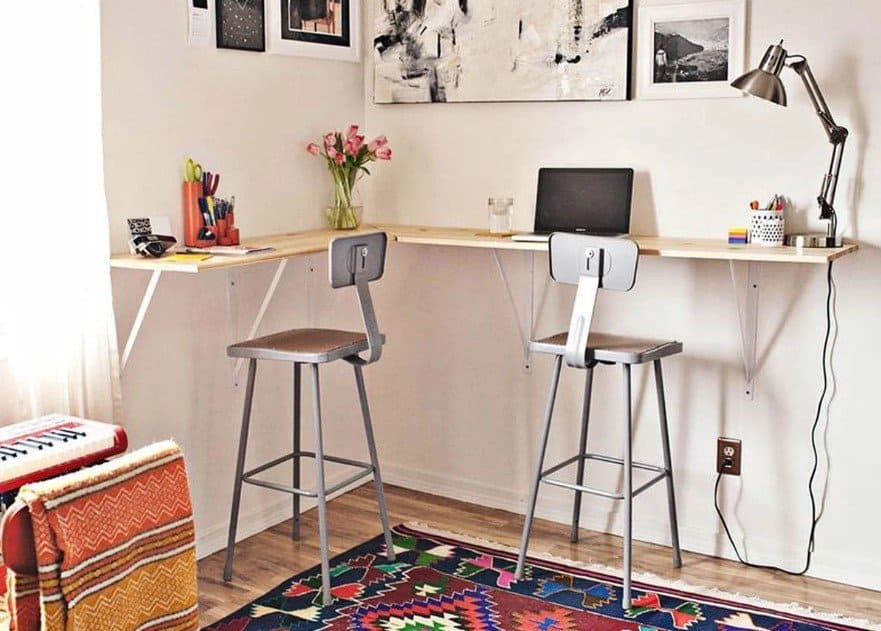 If you have a small home office in your house, building a wrap-around desk is a perfect idea. This design will give you simplicity and flexibility in doing your work on your home.
The top surface is actually quite spacy, it can holds up your laptops, lamp, and also your office utensils.
With two additional bar stools, this perfectly designed computer desk is a great for both sitting and standing.
3. Parson Tower Computer Desk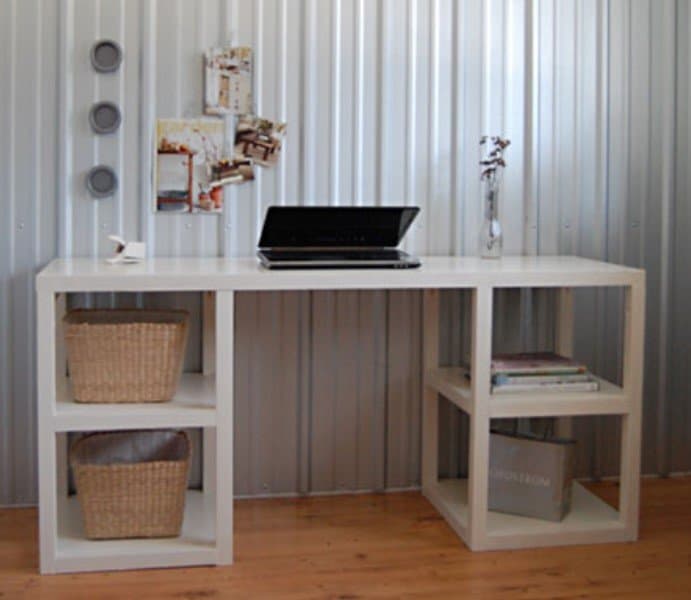 4. DIY Wall Mounted Computer Desk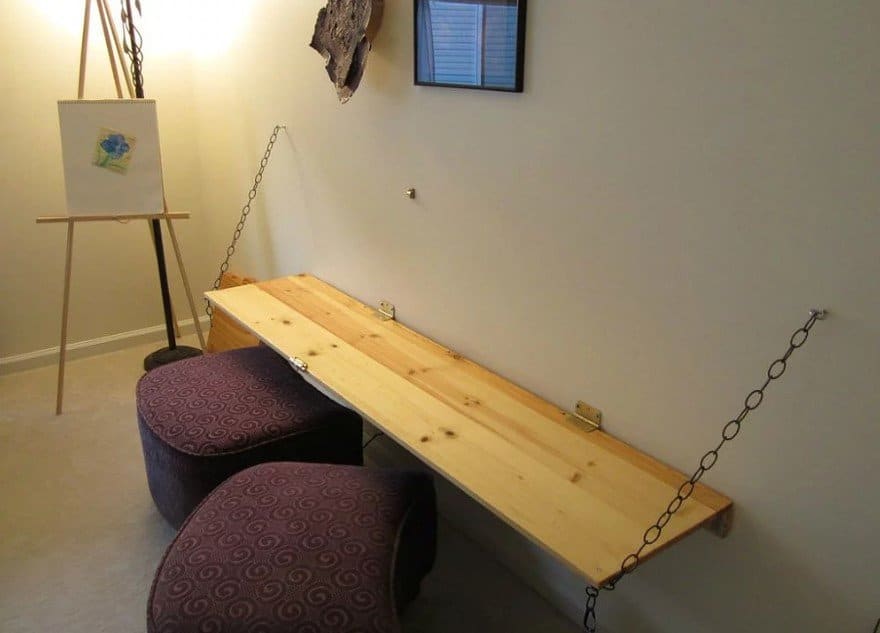 For small space rooms, building a wall mounted desk or a floating desk is the best solution. But what's even better? A folding computer desk it is!
CrazyClever, the creator of this project, actually meant it to be a crafting desk for kids. If you fold this desk up, there is a chalkboard on the other side of the table for doodling.
But let's skip the chalkboard and focus on the folding table. This could be a very comfortable place to work at home, right?
5. DIY Computer Desk with Concrete Countertop
If you are into industrial style, you can never go wrong with this DIY computer desk, because it uses concrete as the countertop.
However, the creator still keeps its natural and minimalist look by not adding any color to the wood.
Some of you may wondering how to build this desk, especially for the concrete countertop since it's not the material most people get used to. Click the button below for the plan.
View Plan
6. Custom DIY Gaming Computer Desk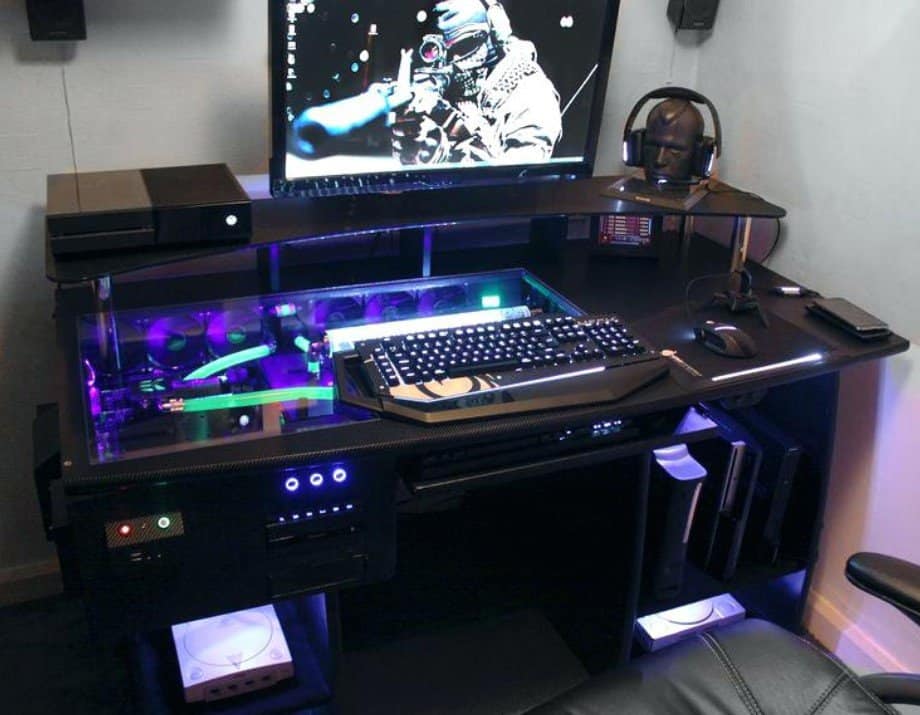 Making a DIY gaming desk is quite different from an ordinary computer desk, especially if you want to make an advanced gaming setup like this one.
We really recommend you to hack or remodel your current desk if you already have any, and it is so much easier to do so than building it from the scratch.
One thing that you should remember is that before you start building this project, at first, you need to make a sketch for the plan. Then, make a list of items that will be needed to build your project.
7. DIY Murphy Computer Desk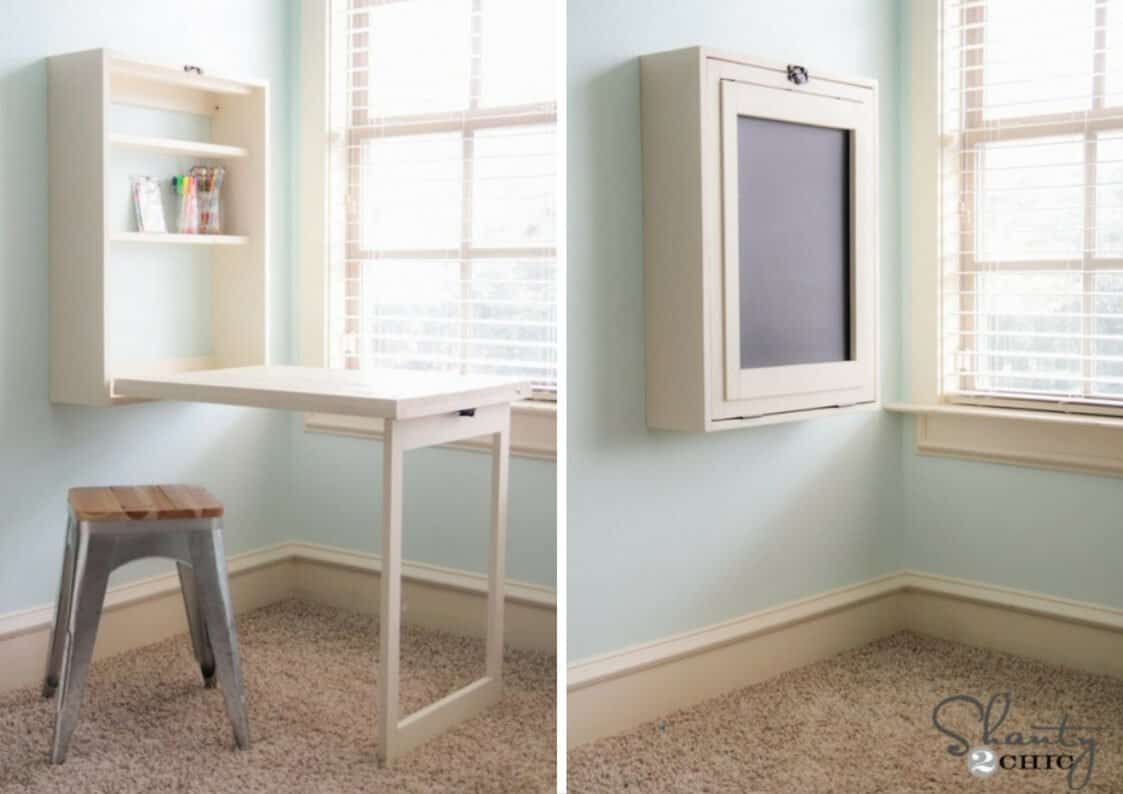 Murphy style is another way to manage and optimize your space. Look at this DIY computer desk!
It is so functional and it will not only give you the unique look to your space, but also the efficiency to restore your tools.
The picture below is the perfect example of murphy desk when being used as a computer desk.
What do you think?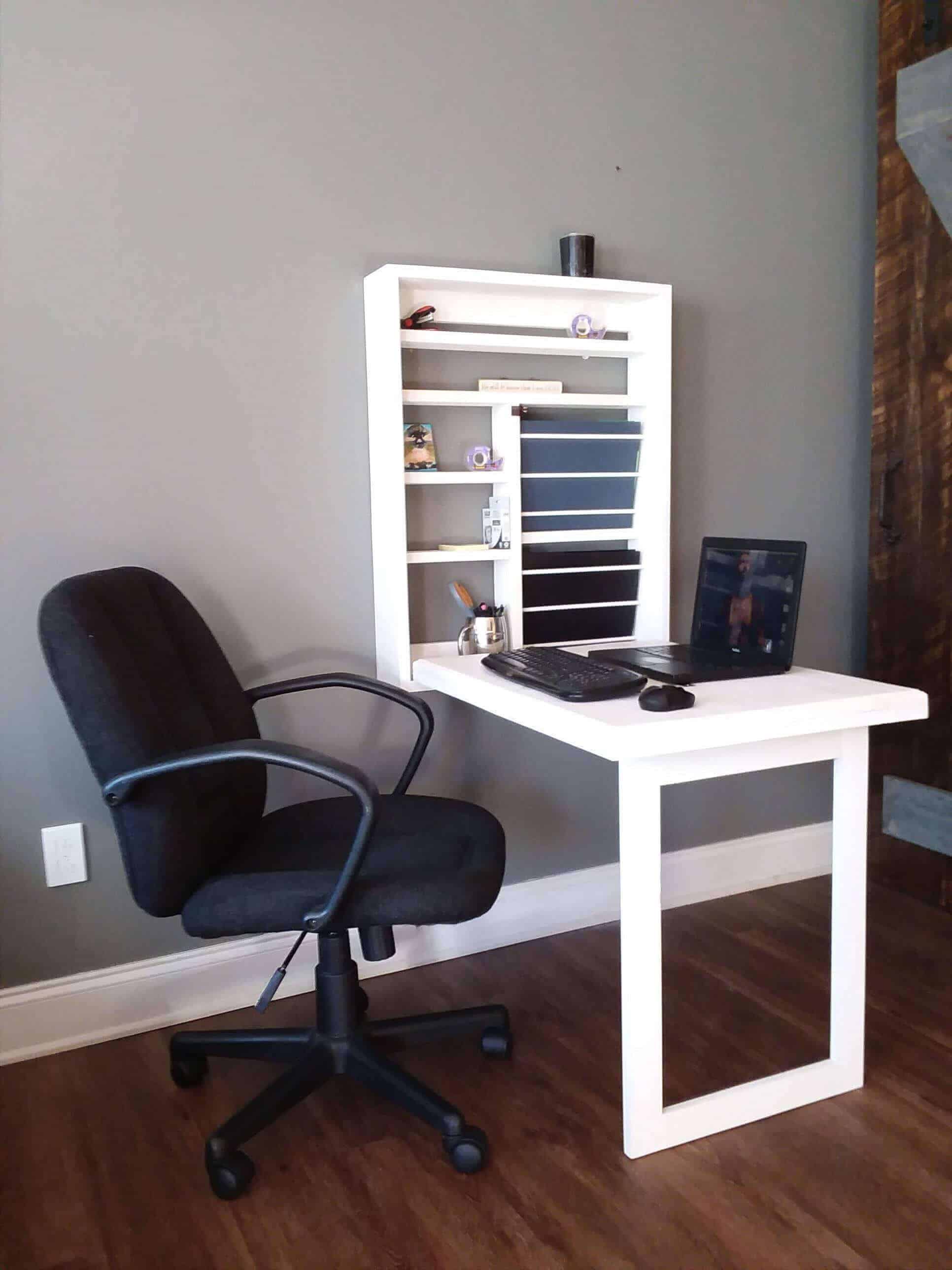 8. DIY Computer Desk from Wood Pallet
This simple pallet computer desk will look awesome on the corner of your room, and it is easy to build.
All you need to prepare is just one unused wooden pallet, one layer of plywood, and two pairs of Vika Curry legs from IKEA.
9. Double Sided Computer Desk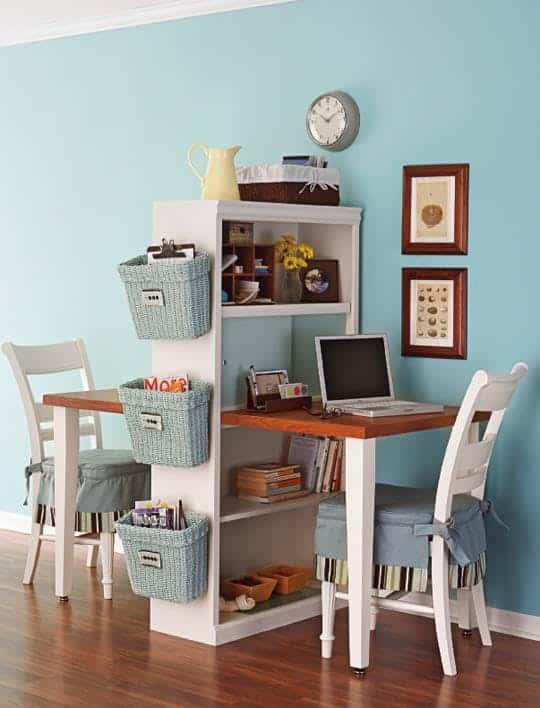 If you work in team, it's better to have a double sided desk so you can easily collaborate with your partner.
As you already know, there are two types of two person desk: side-to-side desk and back-to-back desk.
Each of them has their own advantages and disadvantages. But if you want to have a desk that brings more privacy, you can go with this type of desk.
This back-to-back desk is one of best examples of double sided computer desk. The usage of a book shelf as a substitution for table legs is a brilliant idea.
That way, you can store your books, storage box, small framed photos and flower vases.
Even more, the book shelf also functions as a separator between the two desks and adds some privacy to each person.
10. DIY X-Legged Computer Desk with Plan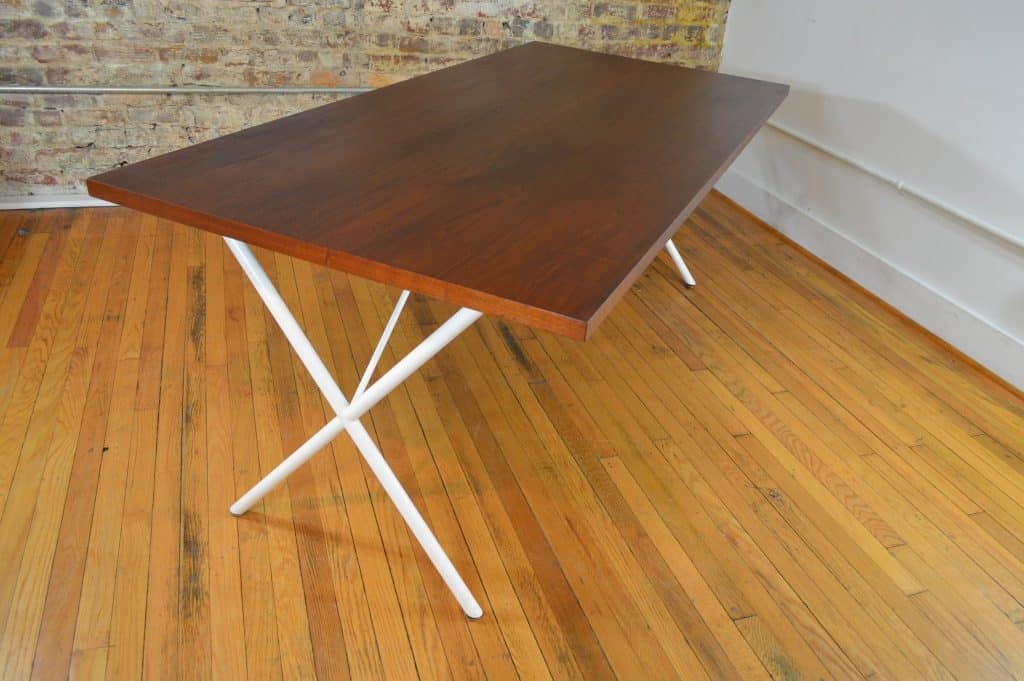 For you who prefer a modular workspace, this foldable X-legged computer desk definitely will suit you.